President's message

Our strength at Sankei is our function as a business firm aiming at expanding markets in Japan and overseas. We are also a lining material producer with a 70% share of the domestic market. By using these strong qualities, we aim to meet the various needs of our clients as a total supplier of overall clothing materials with consolidated production, logistics and sales. As a company, Sankei can procure from manufacturers and suppliers various types of products and propose the best items for our customers. We also provide our clients with the best solutions using fresh, valuable information gathered within Japan and overseas, using our industry-best comprehensive strength.
In addition, by expanding our alliances with manufacturers and suppliers, we aim to increase our share in growing areas of business, and further exploit markets not only in Japan and the rest of Asia, but also in the fashion leader countries of Europe and North America.
Meanwhile, as a manufacturer, we have a number of production bases including Mikuni Plant, Japan's largest dye works specializing in lining and interlining. We continue to supply the best-quality products possible.
At Mikuni Plant, while we have been constantly making capacity investments, we also invested in solar powered electricity and biomass out of concern for the environment. We have established a secure and sustainable basis for production. In addition, our overseas production bases produce Japan quality products that have cleared the same rigorous quality and control standards as in Japan.
Furthermore, we have our own logistics system, in which manufacturing and logistics bases work hand in hand. This enables us to deliver high quality products to our customers accurately and promptly.
We aim to secure our global position as a manufacturer, and continue working to contribute more to the fashion business.

Our concept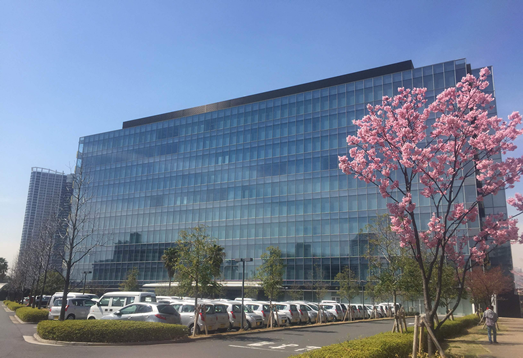 The history of Sankei spans more than half a century, and we have always been dedicated to a "just in time" system. This is a system of customer-oriented supply and support. We deliver just the right quantities of goods the customers need, when they need them.
It can be a long and complicated process for apparel products to reach retailers for sale. In order to streamline and speed up this process and deliver high quality goods to our customers, we have established our own comprehensive supply system that consolidates production, logistics and sales of overall clothing materials.
A huge variety of materials and items are needed to produce clothing. We can supply all of them "just in time" through our consolidated production, logistics and sales system. We are the total solution in the apparel industry. It is our goal to further polish such functions and strengthen trust from our customers.