2. Production system for clothing and accessory materials at our factories in Japan and overseas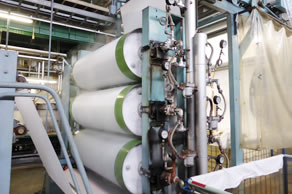 We have numerous factories located in Japan and overseas, notably our "Mikuni Production Base," which consists of a number of garment accessories factories including Mikuni Factory, the largest lining material dye works in Japan, and Fukusen Factory,and also factories in Fukushima, Ishikawa, Tochigi, and elsewhere.
Overseas, we have garment accessories and label producing factories and sewing factories in China, Vietnam, and Bangladesh, and have a system in place to offer support for production in the globalizing apparel business. Sankei maintains its own rigorous standards of quality and provides reliable products at all our production bases in Japan and overseas.
An introduction to our production factories
Mikuni Production Base
We have a production base with a total area of 138,880 m2 and including various production factories and distribution centers in the Mikuni region of Fukui Prefecture.
Shanghai Production Base
Our Shanghai Production Base is located in the Pudong region of Shanghai, about 30 minutes by car from Shanghai Pudong Airport. It is capable of undertaking production operations consolidated from production of garment accessories to sewing of the product.