Shoulder pad , sleeve head wadding and hairdoths
shoulder-pad / sleeve-pad / haircanvas
Shoulder pad,
sleeve head wadding and
haircloths

We have an extensive assortment of shoulder pad, sleeve head wadding and haircloths available for both ladies' and men's clothing and ranging from heat pressed glued on types to stitched types. We assist our customers by giving support role in their garment production in terms of product proposals from the planning stage, sample implementation, and small lot, quick deliveries to enable a response to the needs of the market.
The role of shoulder pad and sleeve head wadding
Shoulder pad creates the external silhouette of the shoulder and also work to prevent loss of form in the whole garment. In addition, sleeve head wadding supports the sleeve from the inside, making the armholes attractive, and also prevents loss of form. In addition, a wide variety of shapes and raw materials are available depending on the outer raw material, design, and silhouette, and we can produce made to order items to meet your demands. We also have some types available with special functionality such as cloth covering and washability.
The role of haircloths
Haircloths are a type of interlining used to maintain the form of a garment. They are not usually glued to the outer material like "interlining" or so-called "adhesive interlining," and they are the prototypical interlining used before the invention of adhesive interlining. They are called haircloths because of the widespread use of horse and animal hair to achieve a sense of bounce. "Full haircloths," in particular, are high class products that use a combination of various natural raw materials such as animal hair and wool and are sewn on various distinct types of sewing machine. They are used in high class tailored men's suits and the like. At present, demand for sewing efficiency, softness, and lightness mean that they are generally used in combination with adhesive interlining for chest peice and shoulder pad. We have a special haircloth workshop, production line, and technical advisors. We can produce products ranging from full haircloths, which require craftsmanship, to trendy, soft, light shoulder pad. We can produce volumes ranging from original samples to full scale mass production at our factories in Japan and overseas in line with the requirements of our customers.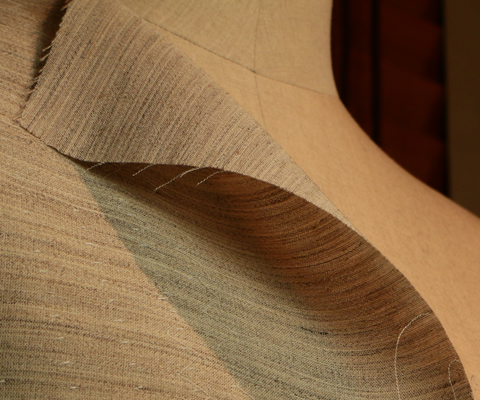 Product line-up
Shoulder pad
Set-in
Semi-raglan
Raglan
Corner cape
Cloth-covered interlining
Washable interlining
Men's shoulder pad
Sleeve head wadding
Linear type
Boomerang type
Type with haircloth
Haircloths
Full haircloth
Semi-traditional haircloth
Chest piece haircloth
Shoulder pad haircloth