Interlining
(adhesive interlining)

Interlining is a fabric that is essential for the formation of the silhouette of a garment. At Sankei, we have an extensive line-up available to cope with the diversification of outer materials.
The role of interlining
If we compare a garment to a building, if outer material corresponds to external walls, then interlining is reinforced concrete.
Interlining is a secondary material and is not visible from the outside. Nevertheless, it plays an important role that is essential to garment manufacture.
Shape retention

Interlining reinforces the outer material and maintains its beautiful silhouette and design.

Formability

Interlining gives a garment bounce, either in whole or in part, creates its architectural silhouette, and determines its shape.

Sewability

The attachment of interlining makes a garment easier to sew.
Interlining is thus is a key garment accessory for determining the silhouette and texture of garments. There are different types of interlining for different kinds of clothing materials, such as soft and smooth materials, thick piled materials and thin, sheer materials. It is also important to choose the best products for your purpose. We have an in-house studio for interlining adhesion tests, and we will help you choose the interlining that best meets your needs. In addition, we continue to work at developing original interlining to suit diverse outer materials and purposes, and we have put together an extensive product line-up.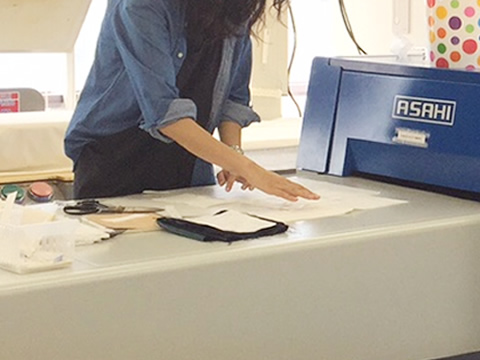 Product line-up
Interlining for thin raw materials
This type of interlining can be used for delicate, thin and sheer outer materials. The interlining material makes creative use of base fabric and resins.
Processed yarn interlining for light garments
This type of interlining is for light garments such as blouses and skirts. The fabric is thin and light, yet has a shape-retaining property. It comes in a variety of colors.
Processed yarn interlining for medium to heavy garments
We have an extensive line-up that will meet customer needs in terms of cost, texture and functionality
High class interlining for heavy clothing
This interlining is soft and has a unique voluminous appearance. It stretches sideways, and matches the texture of high class outer materials such as cashmere. It also excels in maintaining the shape of clothing.
Interlining for raw materials with poor adhesive properties
Made using a special resin, this interlining can be glued on to materials such as water-repellent wax coated materials, nylon and high density polyester.
Interlining for product washing/special secondary processing
This interlining retains stable adhesive properties under harsh conditions such as during the product washing process. It also excels in terms of durability and dimensional stability.