Buttons and parts
button / parts
Buttons
parts

In addition to their role as fasteners, buttons and parts have an influence over the design of the garment as a whole, even if it is small. We have a wide assortment of buttons and parts available from our own button factory and from associated manufacturers, and we can deliver the buttons and parts you want in a timely fashion. We can also offer seasonal products that reflect the latest trends. We can offer consolidated production of original buttons from the planning stage through sample creation and mass production.
Recommendations of buttons and parts for spring and summer 2016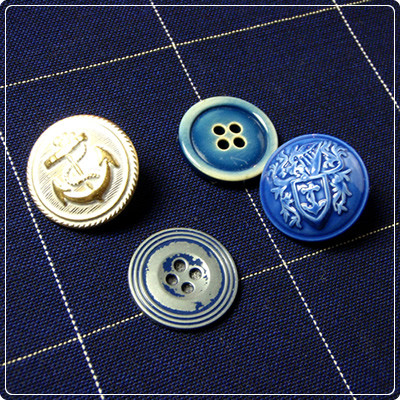 "Blue" buttons
In line with the SS16 season's trend for blue, we offer buttons including blue buttons made from a variety of raw materials and white buttons designed to go with blue clothing.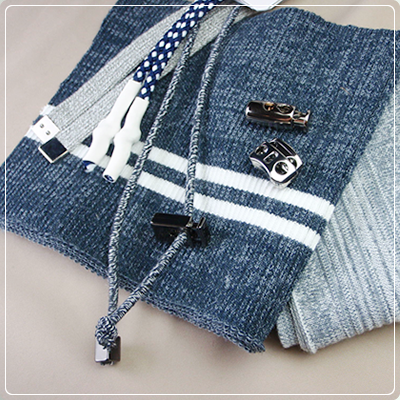 Sports fashion parts
A recent trend in ladies' wear and men's wear has been the fashion for sportswear. There has also been an increase in demand for draw-string pants and we offer a full range of sporting fashion parts, particularly cords and cord-related parts.
Product line-up
Buttons and parts made from plastic raw materials
We have a wide assortment of buttons and parts available made from a variety of plastic raw materials including polyester, nylon, urea, and lacto.
Buttons and parts made from natural raw materials
These are buttons and parts made from materials such as shells, buffalo horn, wood, and leather. The appeal of these natural raw materials lies in their distinctive texture and sense of quality.
Buttons and parts made from metallic raw materials
Several metallic raw materials such as brass or zinc alloy are molded and then plated onto a surface. This type is plated on ABS resin.
Cord-related parts
These are parts used in casual products as toggles for adjusting cord length or as cord ends.
Buckles and rings
We offer various types of items including buckles with pins, round rings, D-rings, and metal rings.
Dot buttons, eyelets, and rivets
These are types of parts driven into fabric to connect two or more parts and include clip-fastening buttons and rivets to open holes.
Ornamental parts
These are parts for the purposes of ornamentation, including jeweled parts, spangles, and beads. We also have hot-fixed glued on types available.
Sewing parts
These are indispensable auxiliary parts for clothing manufacture, and include hooks, front rings, and snaps. We have various colors and sizes to suit any garment.