Outer materials
outer-material
Outer materials

In addition to garment accessories such as lining materials, interlining, and buttons, Sankei also handles the outer materials that are the major component of any garment.
As well as arranging supply from production sites in Japan and overseas, Sankei also develops original raw material products making use of its advantages at our factories at our key Japanese production base in Hokuriku.
We can handle a variety of customer needs.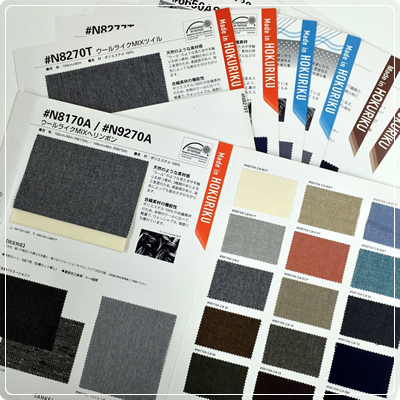 Sankei original outer materials series

Made in HOKURIKU
Sankei original outer materials have been carefully made with the "synthetic fiber raw materials" characteristic of their Hokuriku production site. Standard product rollout began in 2012.
We made use of the advantages of our Hokuriku base to create a gray fabric through initiatives with weavers in Hokuriku production sites with good response capability and development ability. By means of deeply-rooted procurement and production processes in our production sites including central control of the dyeing process at our dye works, we have developed reasonable made in Japan raw materials for outer materials.
Product line-up
Sankei original fabric
Wool-like mix series
This is a polyester raw material series made using yarn that is special mixture of two or three materials that looks and feels like wool. There are also numerous lining material variations such as cotton-like mix and hemp-like mix.
High multi series
This is a functional raw materials series that uses ultra-high multi-filaments at high density to impart wind resistance, water resistance, and moisture permeability. It has a unique sense of bulk and feel, and a soft texture not found with laminate.
Cupra sand wash series
This is a cupra raw material series that uses a sand wash process to impart a peach effect to the surface of the fabric. The raw materials are twill and mixed weave stretch.
Production site fabrics from all over Japan
Synthetic thin cloth merchandise
We mainly handle synthetic thin cloth merchandise such as chiffon, georgette, and tulle from the Hokuriku production site.
Lace
High quality lace such as raschel lace, Leaver lace, and embroidery lace.
Wool
Various types of raw materials such as worsted, woolens, and composites from the Bishu production area (Aichi Prefecture), the largest weaving area in Japan.
Cotton raw materials
We have a varied assortment of high quality cotton raw material fabrics available, notably shirt cloth.
Jacquard
We can procure composite jacquard raw materials and the like from the Kiryu production area (Gunma Prefecture) and the Yonezawa production area (Yamagata Prefecture).
Prints
We can provide printing of various raw materials according to lot or use.