Shoulder interlining and haircloth factories (Fukushima, Tatsumi, Shanghai)
shoulder pad / haircanvas factory
Mass production and processing of garment accessories and miscellaneous items such as shoulder interlining, sleeve wadding and haircloths
We are able to flexibly handle garment accessories such as shoulder interlining, sleeve wadding and haircloths that meet the needs of the market in terms of product proposals from the planning stage, supply of samples, small lots, and short delivery times.
Haircloths, in particular, can be reliably mass produced at "Tatsumi Haircloth Workshop," where a Haircloth Technical Advisor is stationed, in Japan at "Fukushima Factory," and overseas at "Shanghai Auxiliary Factory." These three bases collaborate to ensure the efficiency of the production process. Fukushima Factory also handles sewing processes for camisoles, girdles, and all kinds of other miscellaneous items.
Feelings towards manufacturing
Secondary materials such as shoulder interlining, sleeve wadding and haircloths are not visible on the surface, but they create the silhouette of the garment and are an important item in determining the overall attractiveness of the clothing.
Therefore, the question of what kind of silhouette or texture is required has a different answer for each customer and each piece of clothing. We respond to your requirements by devising various materials, configurations, processes, and sewing methods to create an order made product. In addition, we cultivate our own production know-how to ensure that the quality of the craftsmanship is maintained during mass production.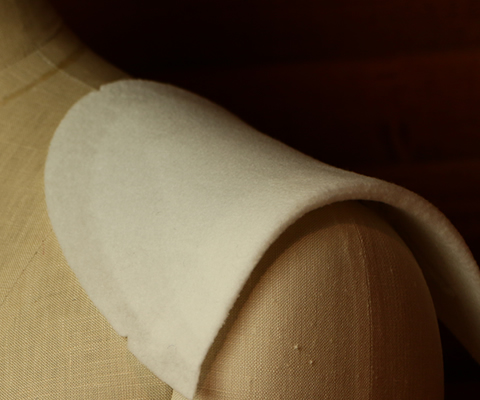 Fukushima Plant
This factory is equipped with a wide variety of facilities. Most notably, it has well over a hundred sewing machines of more than ten types, ranging from zig-zag sewing machines to ultrasonic and electronic cycle sewing machines. It also has various presses, automatic stretching and cutting machines, and other equipment. It focuses on production of garment accessories such as shoulder interlining and sleeve wadding for ladies' clothes and it currently undertakes processing of various stitched products for apparel and also for other industries, ranging from underwear to miscellaneous lifestyle items. In recent years, it has expanded by adding a production line for haircloths. Sankei's special production method, including haircloth washing and drying facilities, enables us to manufacture high quality products.

Items produced and processed
Shoulder interlining/sleeve wadding/haircloths/inner wear/miscellaneous fashion and lifestyle items/medical and nursing articles/sewing parts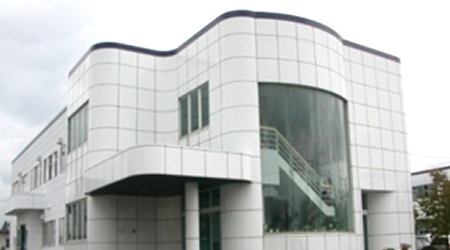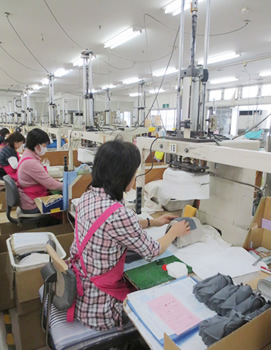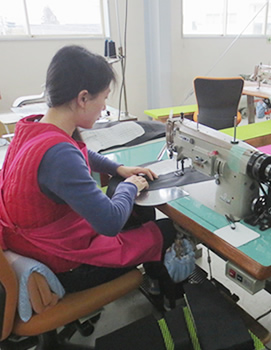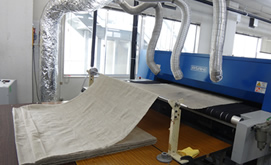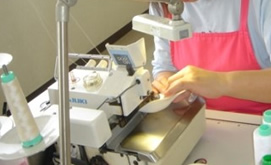 Tatsumi Haircloth Workshop
This is a specialized haircloth workshop located in the Tatsumi area of Tokyo, close to our headquarters.
The factory is well-equipped with production facilities, including several types of sewing machine, and a Haircloth Technical Advisor is stationed there. It is able to carry out "fussy" manufacturing, including the creation of samples that meet the requirements of our customers. In addition, it is also able to use its original know-how to maintain the quality of the craftsmanship in mass produced products.
By collaborating with Fukushima and Shanghai Auxiliary Factories through the sharing of pattern data using CAD systems, it has established a system for the high quality, small lot, and quick production of haircloths.