Logistics in Japan
domestic logistics
Mikuni Delivery Center
We maintain inventory of more than 3,000 kinds of items including lining materials, interlining, small accessories, buttons and zippers produced at our production bases in a space of about 10,000 sq.mtrs. within the Mikuni Production Base.
We provide a unique service based on the conviction we have maintained since the foundation of the company that our business should be customer-oriented. This service includes shipping cuts of products in stock by the meter and "One Pack Shipping" with an assortment of various types of product by style of clothing, and it allows same day shipping in the shortest possible time.
Flow of shipping in Japan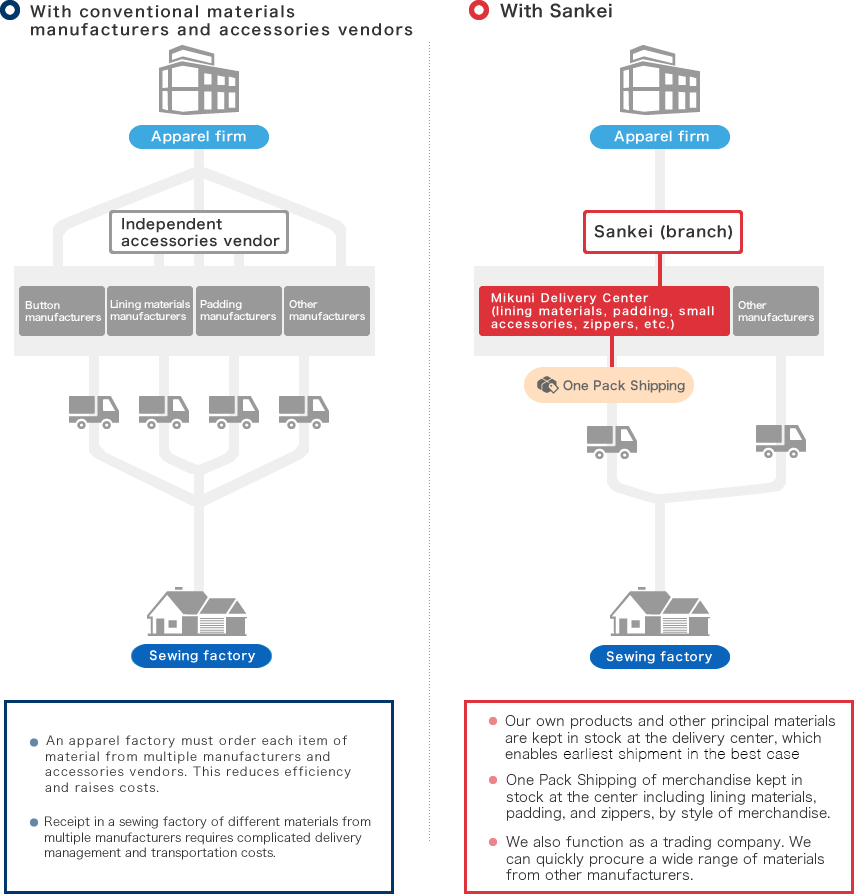 Tokyo Sample Center (Koto-ku, Tokyo)
Tokyo Sample Center was set up near our head office to provide our sales representatives with access to product samples at all times. We maintain a standing inventory of about 900 types of samples, more than 25,000 items if we include different colors, with a focus on commonly used basic items such as lining materials, interlining, zippers, adhesive tape, elastic, and front hooks.
The center also contributes our ability to respond quickly and in detail by shipping lining materials and interlining cut by the meter and offering same day dispatch in the best case.